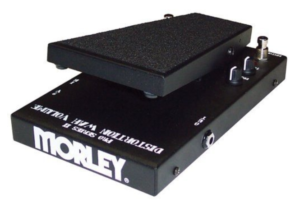 Finding the correct pedal can be a bit of a hustle. When it comes to musicians, specially guitarists, assembling and picking out the pedal includes several factors: distortion, loops, effects, presentation and accessibility. A musician must choose between a number of effects that might seem very similar, but their applications differ greatly.
To prepare for a show or for recording, one must keep their effects from going overboard, either on sound or budget. This is why Morley hit the ball hard with this product. For those musicians out there, this Morley PDW-II Distortion/Wah/Volume Combo Pedal Review is the right call for you.
The Morley PDW-II Combo Pedal Overview
This pedal comes in a nifty 3-in-1 package. It easily transitions between distortion, Wah and Volume with its switches. If are looking to build a pedal station, you cannot go wrong with this one. Morley outdoes itself providing a nice casing and sleek design for the music expert or aficionado. It can be easily regulated, as the knobs on the sides of the pedal can be adjusted in order to be louder, more distorted or increasing the amount of wah effect just by pressing the pedal.
The Wah effect is very easy and hits every tone; which gives a great feeling and can be implemented in a huge number of ways. The distortion never crosses the unbearable edge and is pleasing to the ear, for the fans and technically speaking. Combined, these two effects can deliver a sound like no other pedal could. Maybe a high-end effect may, but for the price, this pedal is a homerun by far. Whether it's clean or dirty, the PDW-II sounds just beautiful.
This pedal is made for those guitarists who follow the sound of rock and metal classics. The feel this piece of equipment can develop is astonishing. If you are looking for a sound from the 80s-90s, look no further: this is the pedal for you. For the versatile musicians and for those reading different styles for their show, this pedal is a must, and for a relatively low price, the package is for those musicians who are looking for something small, but as powerful as a dragon.
It has a nice touch on the foot section, as it has a heavy duty padding. So, whenever you need to make a quick swap, and move up and down, your feet wont slip at all.
Key Features
This pedal gives the Distortion, Wah and Volume, all into a small package and quick switch between them. It's equipped with the "High Q," a feature that enables a wider sweep between lows and highs.
The distortion effect works separately from Wah and Volume. It has accessible knobs of Drive, Level and Tone, a "True-Tone" bypass buffer circuit makes sure that pure tones are kept, while in bypass and effects modes.
It comes with electro-optical, Steel Housing that is Cold Rolled, LED indication, easy access battery compartment and comes with a two-year warranty. This pedal works with bass guitars as well. Its size is 9.13″ long x5.88″ with and X2.75″ height.
It is a great addition to your repertoire, and will deliver at the moment of playing. It has been proven that at the moment of playing, it just became an essential part of the music construction. A guitar must be as impactful as it can be mellow, and this metal sound box provides just that. With a long battery life, you can use a 9-volt battery. You can play extensively while providing the energy to the equipment when it needs it the most, so as not to overcharge your energy station/electricity system.  It works for either rock, jazz fusion.
Final Thoughts
Regardless the music genre, this pedal can give it all. This is their flagship product, and rightly so. Morley wah really outdid themselves not only with the presentation, but with the ease of use. Both newcomers and adept musicians will feel at home when pedaling their way into music heaven. This is a pedal that can be given away as a gift for an aspiring musician, as well as for any guitar enthusiast.