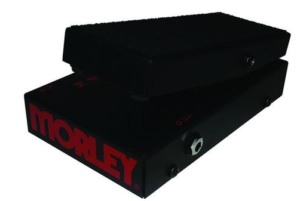 As guitar effects pedals continue to evolve over the years, things like enhanced ergonomics, standardized power and true bypass switching have now become the order of the day. Unfortunately, wah pedals have remained somewhat stuck in time, which means its rather hard to find any of these features on most models.
But things have started to change in the recent past, as more stompbox designers begin to focus on that huge, black hunk of metal that tends to take up more than its fair share of pedalboard space. To find out if these new stompboxes would be worth the investment, the Morley MSW Maverick Mini Switchless Wah review will certainly help.
The MSW Maverick Mini Switchless Review
What is It?
This a new pedal that's claimed to offer smooth, silent operation, while at the same time freeing up some valuable real estate space on your pedalboard. Featuring a unique contemporary/vintage wah tone, this pedal is anything but bland. And if you're tired of worn and scratchy pots, the Maverick Mini Wah Pedal will help with its electro-optical functionality to ensure you have no pots to wear out in the first place. The manufacturer has also added a cold-rolled steel housing to ensure it remains safe and sound, even on the most demanding touring journeys.
Features
Like the name suggests, the MSW doesn't come with an on/off switch; you simply step on it to engage, and step off to bypass the wah. The electro-optical design takes care of unwanted noise that's typical of pot-controlled pedals. The mechanism comprises of an LED and a light-dependent resistor, as well as a shutter that increases/reduces the amount of light that reaches the latter when emitted by the former. This way, functions like switching, volume and Wah can be controlled in an easy, trouble-free manner.
Other features
A 'True Tone' Bypass buffer circuit that maintains signal level in both Wah and bypass modes, besides ensuring the guitar tone remains pure.
LED indicators when the pedal is in Wah mode
Compatibility with bass, guitar and keyboards
It is designed to use a single 9V battery when the adapter is disconnected. The manufacturer advises users to look for high-quality alkaline batteries, and to unplug the cord completely from the input jack when not using the pedal. The battery also needs to be removed if the pedal's not going to be used for long periods.
>> CHECK BEST PRICE ON AMAZON <<
Is it Worth It?
Anyone who's used one of the company's regular wah pedals will surely be surprised by how small the Morley Maverick Mini is in comparison. And when you place it on a congested pedal board, you'll likely appreciate its compact size more and more. The convenience is surely welcome for those who've struggled to find room for a tuner or a second pedal on their board.
To engage the pedal automatically, all you need to do is place your foot on the pedal, then begin to rock it forward slightly. Releasing the pedal will make it disengage after a few milliseconds. Although there's an internal trim pot to adjust the cut-off if you prefer instant bypass, you might want to leave it in its default setup. This way, you'll be able to extract the full low-range of the wah more easily, and without having your pedal flicker on and off.
Thanks to the electro-optical functionality, the Maverick Mini has a vast sweep range that most people can control with relative ease. There's also a nice, throaty tone that's somewhat reminiscent of a classic best Morley wah pedal, albeit with a finer degree of smoothness. The Mini also performs well when placed in front of a distortion pedal or a high-gain amp channel, offering a fantastic sound for coloring solos.
If pedalboard bloat has caused you a great deal of agony in the past, you'll certainly agree that the advent of mini wah pedals has been a long time coming. A great addition to the already popular Mini series, this would be a fantastic option for anyone looking for a compact wah pedal that sounds great. It's so well-founded that you could use it for cleaner tones and distorted sounds alike. And thanks to the electro-optical control feature, you get a great tone and feel in the compact package. So go ahead and try it; it may be one of the best mini wah pedals you'll ever get your hands on.