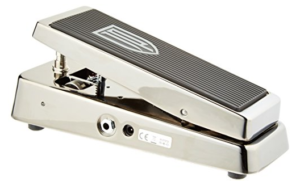 Pursuing a career as a guitarist is a great way to make a remunerative living. Aside from monetary gains, a guitarist earns worldwide fame and recognition. However, it is important to have the right guitar with the best wah pedal to earn reputation and money as a popular guitarist. This is where the JP95 pedal comes in handy to help out.
While there are many Cry Baby pedals in the market, this an exceptional pedal that will take your career to a new level. The following Jim Dunlop JP95 John Petrucci signature Cry Baby wah pedal review will let you know why this effects pedal is important for any guitarist.
John Petrucci Signature Crybaby Overview
The pedal looks flashy and produces tones that authentically and effortlessly nail John Petrucci's identifiable wah tone. However, there is a lot more to this effects pedal that meets the eye. With EQ shaping tools and well considered trim pots, it could be easily customized to any player's rig.
Build
The JP95's sleek yet super car-like aura is arresting. It is well finished in a pretty sexy smoked chrome to entice the attention of all. This makes the wah pedal really inviting and easy to identify on a dim stage. Two bright LED (blue) lights on both sides of the pedal let you know when the effect is engaged.
Combined with the chrome, the lights outline the characteristic of the Petrucci's style. As far as exterior features are concerned, the JP95 is a bullet proof Cry Baby at the core. The enclosure is weighty and the treadle sweeps in a smoothing manner from toe to heel. Aside from this, the pedal comes with a switch that delivers a perceptible yet simple click that is easy to engage. You will find no noticeable pop when you turn the switch on or off.
Additionally, the body of the pedal is highly durable. It will last longer to serve you provided you take proper care. With a damp cloth, you can clean any dirt that might accumulate on the pedal during usage. Made for constant usage, the unit will stand the testing of time no matter how often you use the pedal for stage shows.
Sounds and volume
The tonal range of the pedal is based on the settings John has been using since years on his Dunlop wah. JP95 helps you to achieve the aggressive, heavy sound. The wah pedal is designed taking into account the various tweaks and fine tuning of numerous parameters John Petrucci considered for creating aggressive and screaming wahs.
This is a wah that sounds huge and badass like a screaming, angry monster. It is ideal to shape single notes or manipulate heavy, growling chords. According to many professional guitarists, this effects pedal is the most gargantuan sounding pedal. The pedal allows you to create mind blowing tones via a wide sweep, sub-like lows, rounded highs and a volume boost that adds a cutting presence to your tone.
Besides the basic tones, the unit offers a lot of more varying sounds for any guitar player. If you remove the plate of the pedal, you will find a wide range of trim pots that control peak volumes as well as the Q sweep, and an equalizer. Although the model is designed in accordance with John's sound, you can refine the tune in specific, precise ways that suit your rig.
With minor tweaks and changes in the trim pots, you can create wonderful wahs. However, the pedal will retain its fat, aggressive sound despite the changes you may make. Priced sensibly for Petrucci's fans, the JP95 is a must have wah pedal for any guitar enthusiast who is anxious to generate heavy, aggressive wahs.
Final thoughts
Thus, the above Jim Dunlop JP95 John Petrucci signature Cry Baby wah pedal review makes it clear why this pedal is imperative to producing innovative sounds and wahs. Better build, ability to create some of the best solos and wahs, durability, etc are some of the popular benefits of having the JP95 pedal. This is why more and more guitarists prefer to use this Morley wah pedal. If you wish to earn the reputation and likings of John Petrucci, try his signature wah pedal and you could be the next most popular guitarist in the industry.