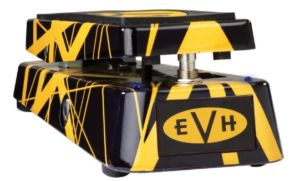 So you are looking for a top class wah pedal! Perhaps, you are just starting out your career as a guitarist. It is also likely that you want to create some of the best wah sounds produced by professional guitarists. No matter the reason, choosing the right wah pedal is pertinent to attain your tones. If you are not sure about picking the best effects pedal, consider the Dunlop EVH95. The following review will give you a clear idea why this wah is an ideal choice for guitarists of all levels.
Eddie Van Halen Signature Wah Overview
Whenever you think of signature guitar players, names like Clapton, Hendrix, and Eddie Van comes to mind. From classical to modern, these guitarists have made the wah effect a staple of their sounds for years. If you wish to be a popular player like Eddie Van, you may want to buy this one.
You step on the pedal and you are actually stepping on the Eddie Van's signature wah tone. This is mainly because it is a clone of Eddie Van's "Holy Grail" Cry Baby. Holy Grail a standard Cry Baby Eddie had custom made in the 90s for a vocal-like tone.
Dunlop has gone far enough to create the "worn-in" pot feel and sweep. So it gives you the same feeling beneath your feet like that of Eddie's. While the visual feedback comes through bypass LEDs, your onstage visual originates via signature black and yellow graphics, stripped all over the pedal.
Build
As far as designing is concerned, the EVH95 is well constructed to suit the fans of Eddie Van. The unit actually features the style of Eddie. So you get the feeling of using an original wah pedal that is used by Eddie himself. Such a feeling can fill you with confidence and you can be motivated to produce more innovative sounds to match the likings of Eddie.
Completing the color trifecta in a clever manner, the wah has the trademarked EVH stripes in yellow color on a black case. It is well housed in the usual Cry Baby casing with a smooth, footpad (rubber) with EVH lettering. The pedal comes with a pair of LED lights and a true hardware bypass, a welcome addition for live performance. Also, the pot is cloned after the "worn-in" one on Eddie's original pedal.
Features
There are certain fantastic features that are really noteworthy. First of all, the switch is amazing. Most of the wahs come with a stubborn switch that is pretty difficult to engage and can be extremely tricky in a live setting to find out whether it has been turned off or on. However, this is just not the case with the switch on the model.
The switch is obvious yet easy to click while stomping on the pedal and lighting two ultra-bright LEDs. There is no mistake when the wah is engaged and this is a really great thing, definitely one of the best implementations seen on any wah pedal. The other plus is the easy travel of the wah pedal. It feels as if the pedal has a much longer travel to it, making it less finicky when finding the sweet pots.
With fine add-ons, the EVH95 offers a different flavor added to the range of Cry Baby products. Priced modestly, the pedal is a great addition to your guitar for generating wah effects. Even if you are not a big fan of Eddie Van Halen, you will find that it serves up the wah tone you are just looking for. It is clearly a well built pedal from a tried and true company.
Concluding words
Pursuing a career as a guitarist is a great way to earn fame and money, but you need to create amazing wah effects while playing your guitar. Although there are many wah pedals that cater to the needs of guitarists, you should pick the best Dunlop wah pedal like this example. With various amazing features outlined in the above, it is no surprise why this wah is getting more and more popular among amateur as well as professional guitarists.