I have to admit, I actually prefer a regular wah pedal for these types of tones, but a good auto wah does have it's place sometimes. Over the years, I have tried a bunch of different auto wahs. Either ones that I purchased myself or some that I had friends buy and use. If you are looking for one yourself, here are what we consider to be some of the best auto wahs on the market today: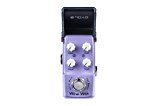 Joyo pedals might not bring the most high-tech sounds and interfaces. They are great pedals for guitarists that are looking to add to their sound on a budget. The Joyo JF-322 Wow Wah Auto Wah is the latest release from the company that is a digital pedal that is working to emulate an analog sound. Here is what I found when it gave it a test drive.
Not too harsh – A lot of auto wahs can be a bit brittle or harsh. This is something that the company avoided in the Joyo JF-322 Wow Wah Auto Wah. The pedal is a much more subtle auto wah than many of its counterparts. It decorates the sound instead of completely taking it over.
Low Price – Not everyone can afford to drop hundreds of dollars on an auto wah. Joyo is a company that makes great products for these people that want to experiment with new sounds. They are also great for beginners to work with a wah.
Cover – There is a cover that flips over the pedal when you have dialed in your sound. The pedal will protect all four knobs and prevent them from becoming unknowingly adjusted. The four knobs on the pedal are sensitivity, bias, resonance, and decay.
This pedal does a great job of adding a subtle envelope filter to their sound. It would be a great pedal for a beginner taking their first foray into funk guitar. It is powered via a 9V power adapter and has 1/4″ in and out jacks.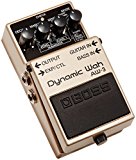 Every guitar player has had some Boss pedal in their rig at some point. They make the some of the best pedals on the market, and they sell them at a good price. I have played previous versions of the Boss Wah before. When I played the Boss AW-3 Dynamic Wah, I was pleasantly surprised at the advancements that were made.
Previously, the Boss AW-3 Dynamic Wah was regarded asore of a guitar pedal. The newest version is designed for use by both guitarists and bassists. There is even a separate input on the side depending on which instrument you want to use. Both inputs are 1/4″.
This pedal is a little different than other in that you can program it to use auto wah and put it in a fixed position. If you want to control the filter, manually you can just attach an expression pedal and control it that way. The options are limitless. The auto wah can be altered using a tempo control.
One of the coolest features on the AW-3 is the "Humanizer." This effect can give your guitar or bass a vocal-sounding effect. The formant filter on this is very useful and there is a broad range of dynamic possibilities. There are two different knobs for vowel sounds on the Humanizer function. The new Boss pedals are also more durable than their ancestors. The AW-3 is definitely built to last. I recommend getting an expression pedal to help control the pedal in real time if you are going to be playing it live.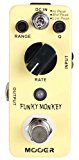 I have been a guitarist for quite some time now and though I cannot complain about the performance of the wah pedal I have been using, I can say that its size has been a bother. Most of the times that I am required to play songs that require to wah throughout, it is my leg that takes the beating. Having to constantly elevate my leg so that I can step on the pedal is really tiresome. This is the reason why I did not think twice to try out the Mooer MFT2 Funky Monkey Auto Wah Guitar Filter Effect Pedal. Its small size and powerful performance are some of the things that impressed me a lot. Here are the features and benefits of this pedal.
The Mooer MFT2 Funky Monkey is not that great when set to the higher rates and ranges and lacks a little bit of the bottom end because it sounds a little bit whooshy, but it is great in the mid ranges. This pedal has Hi, Mid, and Low control knobs that are packed with awesome effects.
The Mooer is very easy to use. Its control knobs are well-positioned and easily accessible. Setting any mode is as easy and similar as it is with other typical wah pedals.
The pedal uses a 9V AC power supply, is small in size, and is well-built to survive serious stomping for a very long time. Also, the Mooer MFT2 Funky Monkey Auto Wah Guitar Filter Effect Pedal has a wide range of options and is a True Bypass pedal.
Review coming soon!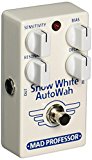 I love a good auto wah on my guitar. One of my favorite things to do is use it to get a funky attack on my lead tone. This is something that the Grateful Dead's legendary guitarist, Jerry Garcia, used a lot to shape his iconic tone. I have found one of the best Auto Wahs out there in the Mad Professor MAD-SWAW Guitar Wah Effects Pedal. The following are some of my favorite things about the effects unit.
The latest auto wah from Mad Professor is probably my favorite auto wah I've ever run my Strat through. First of all, it's white so it really stands out on your pedal board. I know this isn't the most important thing when it comes to tone. What can I say? I'm a sucker for a cool looking stompbox.
The pedal is easy to control. There are only four knobs on the Mad Professor MAD-SWAW Guitar Wah Effects Pedal. Each of them is very dynamic and has a noticeable effect on tone. My favorite knob is the "Bias" knob. It decides the frequency of the resonance. I got some really quacky filter envelope sounds when I dialed this parameter in.
The pedal is not cumbersome at all. This makes it very useful in a live setting. I think that, for its size and its price, it's the best auto wah pedal that I've ever played. The pedal integrates easily into any signal chain thanks to its 1/4″ ins and outs. It is also powered via 9V adaptor.
---
How Does An Auto Wah Pedal Pedal Work?
Ever wondered how a guitar makes that sound? Or how does an auto wah pedal work? Despite the name, it is not actually a pedal at all, but a component that reproduces the same effect that a wah pedal would make. Other than that, it produces very close to the same sound that a manual pedal would.
They are a little different for the sound achieved from playing an instrument. The sound is in the science. The auto wah pedal has the unique ability of being totally independent from human interaction and, because of this, can be used to make sounds that a manual pedal can not. The effect is not controlled by the musician moving their foot, but the volume of the input from the instrument. Then it proceeds to alter the frequencies to cut and distort the tone. This produces the infatuating hums and intoxicating tones that bands like to use.
Most pedals use an envelope detector to produce the amount of frequency needed and then use a cutoff to sweep out the unwanted frequency. Some pedals use a different method by using a low frequency oscillator to constantly change the effect. The difference is an ever responding sound that will always have a unique appeal.
Most wah pedals are laid out, basically, the same way. They have a couple knobs to change the effects sound. One is a sensitivity knob to adjust the input level to match the output expected.  Another, is the  control for the initial cutoff point of the noise. Along with that, is the the depth control knob for the filter sweep. Some more expensive models have other optional knobs to go with these, but those three are the standard knobs.
Hopefully this can help to educate some on what exactly they would want to start looking for in the future.