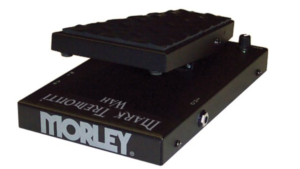 Nothing beats the quality of guitar accessories designed by and for an expert guitarist. The accessories are designed with the player in mind since the designer is conversant with everything to do with guitars and strives to give players a great experience. This is what the Morley Mark Tremonti wah pedal has to offer.A look at any review will show you how impressed guitarists all over the world are with this pedal.
The pedal is a product of Morley, a producer of some of the best wah pedals in the market. It was designed for Mark Tremonti, the final product being a combination of the great ideas of the Creed guitarist and the designers at Morley. It is one of the few wah pedals that can be used with the classical guitar as well as the bass guitar.
The Morley MARK 1 Wah Review
Switchless Design
This pedal is the most advanced wah pedal in the market. It is very easy to use; you just have to step on the pedal to engage the effect and release the pedal to disengage it, which makes it possible for you to use it only when you want to.This is unlike other wah pedals in the market which use a switch and can be quite cumbersome to use in a performance. Switching between effects and not having to use one throughout the performance can have a great effect on the overall performance.
Boost Knob
It has a boost knob which boosts the sound output by up to 20 decibels. One challenge guitarists face with most wah pedals on the market is the loss of volume when the pedal is engaged. The boost knobs takes care of this quite well, so you will never have to worry about the reduction in volume when you use this pedal. The pedal produces a unique high-quality tone which is a blend of contemporary and classical sounds. And to top it all off, the sound is not harsh at all.
Electro-optical design
The pedal has an electro-optical design and has no pots, which wear out fast and need frequent cleaning and replacement.This can be quite costly in the long run.They may also affect the sound output because a loose connection can result in a noisy performance, which can be disastrous. You will never have to worry about such things.
Great Footpad
Another great feature is its bigger-than-average footpad, which makes it great for players with big feet and also makes it more comfortable to use. The footpad is diamond-plated,giving the pedal a sleek and classy look and making it non-slip, providing the player good grip.
Buffered circuitry
The circuitry is buffered to prevent loss of sound quality or tone as the signal is transmitted through the cables. This can be disastrous during a performance. Even with a longer-than-average cable, you can be assured of great sound quality.
Additional Information
The pedal can either use a power adapter or a battery, making it great for use in different settings. If you are performing or practicing in a place where there are no power outlets, you can use the battery. The battery compartment is easily accessible. As with any other wah pedal, you need to use a clean amp channel for the best sound. However, one notable feature of this pedal is that is performs much better than other wah pedals, even with a dirty amp channel.
Conclusion
The Morley Mark Tremonti wah pedal is a very high-quality pedal that will completely blow your mind. A brand new one typically comes with a 2-year warranty. It has a simple but elegant design, and is the most versatile wah pedal yet. Whether you are playing blues, classic rock, hard rock or metallic rock, its effects are simply amazing and will greatly enhance your performance. Its great sound quality is its most outstanding feature, and the other features that make it more durable and easy to use put it way above the rest.Users are greatly impressed by this best morley wah pedal and some swear by it.Check out any review online to see the great things its users have to say about it. Regardless of the genre of music you specialize in, you cannot go wrong with this.