I wish I would have thought about getting a mini wah pedal before I bought my main one because these are awesome! They take so much less space in my pedalboard and they still sound amazing. I guess good things do come in small packages. Take a look at our choices for the best mini wahs:
Ask any guitar player what the first wah pedal they ever bought was, and they will be likely to tell you that it was the Crybaby. Today, I am giving the Dunlop CBM95 Cry Baby Mini Wah pedal. I am interested to see if the company can capture the same sound, power, and emotion out of the "mini" version of this iconic piece of gear. I was pleasantly surprised when I gave it a test run.
Apparently, the first thing everyone notices when they look at this pedal is its size. When I first heard that this model was in production, it raised some questions in my mind. Will it still have the same quality? Will it have the same range in dynamics of its older cousins? Luckily, the Dunlop CBM95 Cry Baby Mini Wah answers both of those questions successfully.
It is important to note that the Mini Wah has the same Fasel inductor that the larger version has. The potentiometer is slightly smaller but sounds pretty much the same. I think the most impressive thing about the Cry Baby Mini is that it has something that the regular version doesn't, a 3-voice selector.
The shell is just a smaller version of the big brother. The same materials and cuts are used in its design. They are just scaled down to fit the size of the mini version. Dunlop ensured that the smaller crybaby has the same durability as its predecessor. If you want to make more space on your pedalboard without losing any sound, this is the wah pedal for you.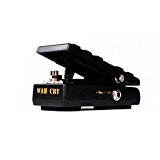 The Donner Wah Cry 2 in 1 Mini Guitar Wah Effect/Volume pedal is a pedal that is capable of delivering both Volume functions and an excellent Wah response. This pedal is small in size, but do not let this fool you as its size has been very well compensated with powerful output capabilities. I had a chance to sample it and here are some of the benefits and features of this Wah effect and Volume pedal.
The Wah Cry 2 in 1 pedal is powerful yet very easy to control. All you need to do when playing and you need to spice up the sound with a vocal sweep and harmonics is to simply press on the pedal when in Wah mode. The response in Wah mode is swift and based on the original Crybaby response. I was also impressed a lot by the Volume mode. This mode was designed in a way that ensures all the details of your sound are retained courtesy of its well-engineered active circuit. Also, an additional volume range control was added by its manufacturers for the Volume mode. This pedal performs exceptionally well as a volume pedal. Its features and technical specifications are:
– Adjustable bottom value control range.
– Multi-functional capabilities, that is, Wah and Volume control capabilities.
– Active Volume mode that prevents loss of tone.
– Uses a working current of 15 mA and is supplied with power by a 9V True bypass AC adapter.
– It is very light in weight weighing less than 420g.
The Donner Wah Cry 2 in 1 Mini Guitar Wah Effect/Volume Pedal performance exceptionally well. For this reason, I would highly recommend it.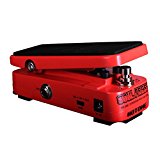 I had already tried the regular version of the Hotone Soul Press 3 in 1 Mini Volume/Wah/Expression Effects Pedal. I found it to be very useful and still use it from time to time in my signal chain when playing live. Now, Hotone has released the mini version of the effects unit. I'm always on a mission to save as much room as possible in my effects rig. That's why I couldn't wait to try this new model when it was sent to me.
There's a lot to like about this pedal. First of all, if you think is going to be missing from its older brother, you're wrong. I found that every feature of this pedal performed just as well as its larger counterpart. Technology is making it much easier for companies to get the same sound and craftsmanship in a smaller package these days. It's small size is a welcome thing from all bassists and guitarists that are trying to get as many pedals in their rig as possible without changing their tone too much.
The compact pedal has a few differences from the big version. You can get the Hotone Soul Press 3 in 1 Mini Volume/Wah/Expression Effects Pedal in red. It also has a LED display to let you know which mode you are using. I think my favorite thing about the pedal overall was the volume function. Other volume pedals seem to affect the tone of the instrument when they are utilized. The volume mode on this effects unit maintained that integrity while adjusting the tone at a smooth rate.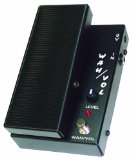 The Morley MWV Mini Wah can truly give you that "wah" sound that is so necessary in Blues and certain types of Rock music. It's products like it that truly put the bleeding heart effect in some of the guitar solos. I loved it from the very first moment I took it home. I play for a small band, and I bought it because I needed something that was highly portable but still powerful.
The Morley MWV Mini Wah is easy to handle. the wah effect that it provides is a traditional one, and the pedal board has both the wah and volume adjustments on it. You can do a ton of wonderful things with all the power that you have at your fingertips with this system.
The features that it comes with are features such as an LED lamp, steel housing, electro-optical circuit and audio taper volume. You can really make some cool sounds with this unit. The unit is versatile and can go with a bass, keyboard guitar and many more items.
The pedal is quite sturdy as compared to many of the other ones on the market. Its steel frame gives it the ability to withstand the normal use and abuse of a rocker. Tweaking the volume sweep and the swell are added bonuses to an already awesome piece of equipment. I was more than satisfied with this product and would recommend it to anyone. The effect that it gives is sweet and will have you fooling around with it for hours.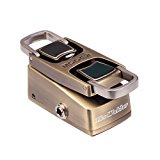 The first time you look at the Mooer Audio The Wahter Wah Pedal, you might be taken aback. It's not a common effects unit when it comes to visual design. It's also slight. That seems to be the fad these days, though. Companies now have the technology to use the same wiring used in the bigger predecessors of their current. I enjoyed this mini wah. Here are some reasons why.
No more stomping around – This is certainly my favorite aspect of this device. Gone are the days when you had to stomp down to get your wah to activate. Thanks to the pressure sensor technology, the pedal can activate the wah function by the mere presence of your foot. If you don't need or want this, the pedal can be converted to use the traditional method of activation.
True Bypass – Wah pedals are classic offenders when it comes to adding unwanted noise to a signal chain while not in use. The Mooer Audio The Wahter Wah Pedal has advanced the bypass hardware in their effects units for this new generation. Sometimes true bypass isn't always truly bypassing. This time, it is.
On top of these two things, the tone in this pedal is very reminiscent of some of the classic auto-wah tones that guitar players have used in the past. I got close to achieving the classic Jerry Garcia filter envelope attack with it. There is a proprietary power adapter, but you can power it with any 9V adapter.
Another quick note. If you have a local guitar teacher and haven't been playing guitar for too long, it is a good idea to get a lesson in using the wah pedal. It takes some practice and a good guitar teacher can definitely help tons!
---
Considerations When Looking For A Mini Wah Pedal
A wah pedal is meant to help guitar players add harmonic and multiplying effects to the sound of the guitar. While most of the effects pedals are bigger in size, many brands are now offering these to suit the varying needs of guitarists. These pedals are compact in size, perfect for pedal boards with crowded pedals and gigs with little stage room. However, the key lies in picking the right mini pedal that can generate amazing, innovative sounds as desired. If you wish to select the right compact pedal, follow the below considerations when looking for one.
How to choose the right mini effects pedal
You will find a range of wah pedals in the market. While the availability of a vast range of pedals allows access to multiple models, it makes your selection really difficult. You ought to act diligently in view of the below tips to pick an ideal mini effects pedal.
Assess reliable brands
While you will come across many pedal vendors, all of them are not really worth considering. Certain vendors are offering duplicate or inferior quality pedals. You will only waste your money and time if you buy mini pedals from such a vendor. It is best to explore reliable pedal vendors that offer high quality products. Although branded mini pedals may come with a higher price tag, the price is worth the quality for creating innovative music.
Check reviews
Once you have enlisted the names of well known mini pedal vendors, scan reviews about these brands. Many guitarists share their views and feedback on particular effects pedals. As such, you get a good chance to check real time reviews posted by guitarists who have bought quality pedals. In accordance with reviews and testimonies, trim down your list to a few reputed brands that are highly supported and endorsed for better quality and reasonable pricing.
Size and sound quality
Although mini pedals come in compact sizes, you need to pick the right sized pedal. This is even more important for portability and stage sizes. A compact sized pedal should fit perfectly in a small stage room without compromising the quality of sound effects.
Pricing
Of course, you don't want to dent your wallet completely on buying high quality mini wah pedals. So be sure you compare the pricing policy of multiple vendors to cut down your purchase bill. Check the support, shipping as well as replacement and refund policy of each vendor in great detail. After examining multiple vendors, settle with the brand that offers top quality mini wah pedals in a budget friendly manner.
Bottom line
Using a mini wah pedal is a great way to amplify your music tenure. Available in compact sizes, mini effects pedals perfectly suit smaller stage rooms where space is a problem. However, you ought to pick the right pedal to make the most out of the instrument. If you don't know how to pick an ideal mini effects pedal, take into account the above considerations when looking for a mini wah pedal and you could bag the right pedal to enhance your music.